What's on at Knox-Met for the week of October 10, 2021
Sunday, October 10, 2021 

10:30 AM • Traditional Service online via Facebook Live
11:30 AM • Sunday Morning Coffee online via Zoom 

All are welcome #BLESSTHESPACEBETWEENUS
To join us live, visit our Facebook page
Once you are there you can click to join the Livestream posts.
They should be visible at the top of our Facebook page.
In-Person Worship and the KMUC PRAYSAFE Guidelines
In addition to our online streaming, worshippers may also join us in-person in the KMUC Sanctuary following our updated PRAYSAFE guidelines which include a requirement to wear masks and observe physical distancing.
If you are able to be vaccinated please do so in order to protect those who are unable to be vaccinated to due to age or medical conditions.
Sunday Morning Worship
October 10, 2021
Thanksgiving Worship with the Rev. Dr. Mathias Ross
(Voluntary Associate Minister)
Sunday Coffee | 11:30 AM | After Sunday Morning Service via Zoom
Join us for some coffee and conversation with friends from the Knox-Met community via Zoom. All are welcome!
Upcoming Sunday Morning Worship
Sunday, October 17 • A Celebration of the Ministry of Regina Anti-Poverty Ministry and the International Day for the Eradication of Poverty
---
Are you interested in reading Scripture in an upcoming service?
 
We have started welcoming a volunteer Scripture Reader to participate (wearing a mask) in our Streamed Service. If you are interested in participating in this way between now and September, please email Cam – camfraser@knoxmetregina.org.
---

International Day for the Eradication of Poverty with Regina Anti-Poverty Ministry • Sunday Oct. 17, 2021

On Sunday, October 17, our Traditional Service will include special reflections and prayers recognizing the International Day for the Eradication of Poverty, and a celebration of 50 years of the work of the Regina Anti-Poverty Ministry. Bonnie and Peter will join us as we reflect back on their work and what response is needed right now in light of current conditions of poverty, not only in our world, but in our city itself. 

Following the service, folks who are interested are invited to join us outside in Victoria Park as we are joined with members of other faith communities in Regina's downtown to share ecumenical prayers of lament, confession — as well as words of hope, commitment, and vision for an eradication of poverty and inequality!
---
Blessings to the Cardinal Craigie Family as they celebrate their baptisms
 
Special blessings to the Cardinal Craigie family who celebrated the baptism of their whole family after the service on Sunday, Oct 2. Blessings to Lorraine, Whitley, and Garrett, and children/grandchildren Athena, Odin, Elijah, Gabriel, and Zayne!
---
Knox-Met Kids and Family Gathering
Thanks to all who were able to join us on Sunday, October 3 for this outdoor gathering! Our theme for the day was Psalm 139:4
I will praise You, for I am fearfully and wonderfully made;
Marvelous are Your works, And that my soul knows very well.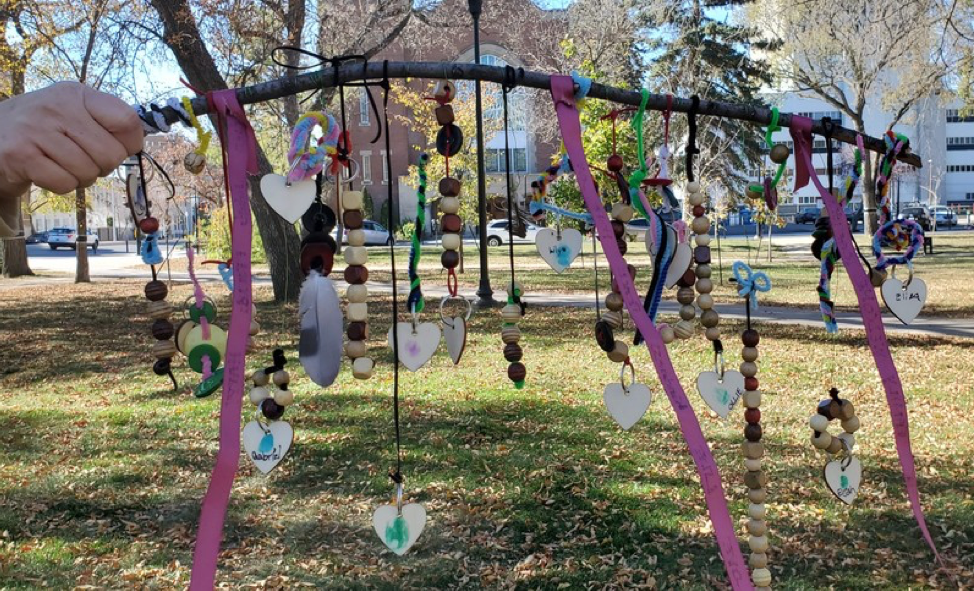 Knox-Met United Church Community Mobile
Starting this week, you will notice a new element on our communion table, a Community Mobile made by the KMUC Kids/Youth Program Community. While this group is not currently joining us in-person, we are so glad to have their artwork in our physical worshipping space.

The Community Mobile was created by 18 Knox Met children and youth at an outdoor gathering last weekend.

The mobile is a celebration of the unique gifts each of the children bring to the church and a visual reminder that even when we are not physically present in the sanctuary, our hearts are joined in community.

The mobile consists of wooden hearts with each child's name and thumb print on them along with ribbons depicting words associated with our church community such as joy, love, friendship, and family.
—Jenni Krall, KMUC Children and Youth Programming Coordinator
---
Conversations about Poverty and Homelessness in Regina
 
On Wednesday, October 6, about 50 of us gathered in person — and many more online — for Downtown on Purpose: Conversations about Poverty and Homelessness in Regina. We were joined by members of the Downtown Regina Community Support Team, Ward 3 City Councillor Andrew Stevens (Regina Plan to End Homelessness), and the staff of Regina Anti-Poverty Ministry, who all provided informative and challenging presentations. It was an opportunity to understand that the problems of poverty and homelessness in our community can be solved — and that two key ingredients are collective will and collective responsibility.
Are you interested in gathering online with others from Knox-Met to debrief around this conversation? Let Cam know. If we have sufficient interest we will set up a Zoom gathering to discuss this.
 
This event received great media coverage:
---
Upcoming Webinars from United In Learning

The United Church of Canada offers exciting opportunities to learn through online webinars. There are two upcoming offerings that are particularly relevant to our context at KMUC given our connection to Regina Anti-Poverty Ministry and being so close to lived experiences of poverty and homelessness in our downtown neighbourhood. Are you interested in attending and sharing your learning with the congregation? Let Cam know!
Building Poverty and Privilege
Wednesdays October 13 to November 17, 2021 1:00 – 3:00 PM ET
What if our response to poverty went beyond charity? What if we grew intentional friendships with neighbours living in poverty? What if your church community could start a ministry that will make a tangible impact on poverty in the place you live? Explore how this can happen in weekly gatherings of food, fun, & storytelling while learning together how to Bridge Poverty & Privilege. Register here.
---
The United Church of Canada Mission and Service Fund
KMUC is proud to participate in the work of the United Church nationally and globally through contributions to the Mission and Service Fund. Directed donations are remitted to this fund. You can direct part of PAR, Canada Helps, or Envelop giving's to M&S. We can help you set this up! In 2020 the KMUC Community contributed $14,114.00.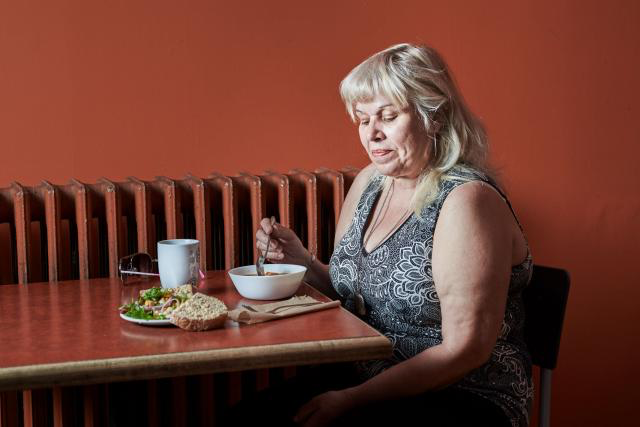 Dignity is on the menu
Most of us appreciate a well-dressed table and can afford to go out for dinner from time to time. Many of us will be sitting down to elaborate Thanksgiving dinners. Our daily experience doesn't involve standing in line for every single meal with a tray in hand.
That's why special dinners like Café Cinq-Zéro-Sept that Ottawa-based Mission & Service partner Centre 507 hosts are so important. Several times a year, the adult drop-in centre sets up a small room for a special fine-dining meal with gourmet food, decorations, and candlelight. For just two dollars, participants have their choice of meal accompanied by full service and great company. Read more…
---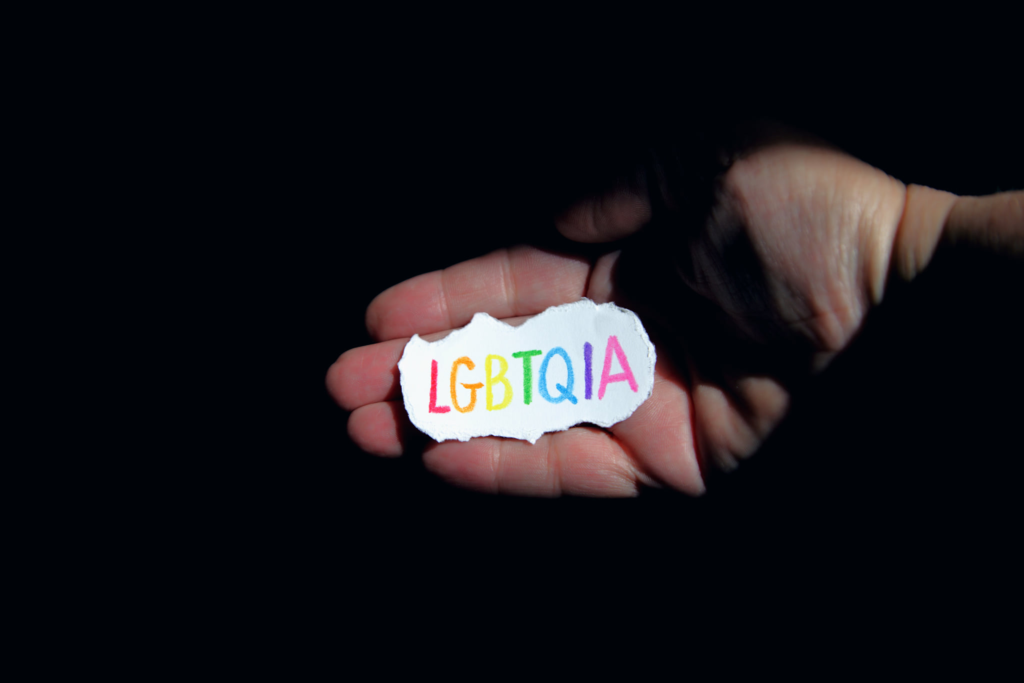 Conversion Therapy Ban Petition to the SK Government
Grosvenor Park United Church and Saskatoon Affirming Ministries invite you to circulate this petition in your community of faith and wider community. This is in keeping with the Regional Council's 2020 annual meeting decision to seek a provincial ban on this harmful, transphobic and homophobic practice, which tends to be disproportionately supported by a minority of Christian groups. As Christians, may we speak out against it.
---
Code Red for the Climate | A Message from Laura Stewart of Kairos Regina
From October 12-17 and throughout the fall: a Climate Code Red petition drive demanding just transition legislation: fair-share emissions reductions; stronger Indigenous rights; reduced inequality; green jobs; and the necessary institutions to get it done. Petitions will be delivered to MPs after every 25 signatures, calling on them to become champions for the legislation, and giving them fresh opportunities at each visit to take these demands to Parliament. To read the full petition, download the toolkit from the Council of Canadians Climate Code Red page, or watch for Laura Stewart, in bright red, canvassing events in the coming weeks. Laura Stewart Cell/text: (306) 535-1839
---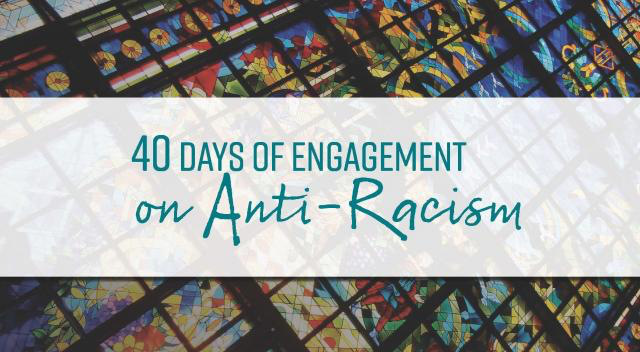 40 Days of Anti-Racism

Delve deeply into anti-racism work with a 40-day time of learning, reflection, and advocacy!
Each day from Tuesday, October 12 to Friday, November 26 (with the exception of Sundays) there will be a new reflection on anti-racism, as well as activities suitable for adults and children. These activities can be done alone, as a family, or in groups.
Writers from across the United Church have offered these daily contributions about different kinds of racism in church and in the broader society. Some draw on their personal experiences to share their insights about racial injustices. All invite the reader to explore ways to transform themselves and the denomination.
The days do not need to be done in a linear way! They are flexible—you might choose to stay with the content from one day for several days, or you might choose to do the days in a completely different order.
At the end of the 40 Days, you are invited to continue the learning and engagement in your own ways.
---
Exploring our Sacred Texts: A conversation about stewarding our common life
All are invited to join this online series with Jewish, Christian, and Muslim panelists to discuss the scriptural sources for understanding generosity, hospitality, and compassion.

Join us for this series, Thursdays, October 21, 28, and November 4 at 3:00 PM with panelists Rabbi Jeremy Parnes (Beth Jacob Synagogue), Rev. Amanda Currie (First Presbyterian Church), and Imam Dr. Mohamed Masloh (Islamic Association of Saskatchewan in Regina).

In these days of increased social polarization and intolerance, where racism, antisemitism, and Islamophobia appear to be increasing daily, dialogue between faith communities is an antidote to ignorance and hatred. Generosity, hospitality, and compassion are social virtues that can heal the wounds of our society.
This webinar is planned in the spirit of the LAURC Covenant by the Ecumenical Stewardship Committee of the Anglican Diocese of Qu'Appelle, the SK Synod of the ELCIC, and the Roman Catholic Archdiocese of Regina.
---
---
A message from Pastoral Care

As we carry on being "together but apart", we continue making our congregational calls. Would you like a call but are not yet getting one? Are you on a list but feel you no longer need our calls? Would you like to join our list of callers? Please leave a message for Elizabeth Calam at the church office.
Email: info@knoxmetregina.org
Phone: 306-525-9128.
---
How are you doing in the midst of all this?

Feel free to reach out and check in:
You can email pastoralcare@knoxmetregina.org.

If you'd like something named during Sunday Prayers, please let us know.

Take good care of yourself, and reach out to others as you are safely able to do so.

Physical distance + Social Solidarity + Caring Community is a wonderful response to this time.

God is with us. We are not alone. Thanks be to God.
Cam Fraser | Minister | Knox-Metropolitan United Church
---